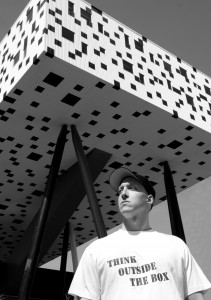 "Add Sampson's name to the list of top Canadian hip hop artists" - Chartattack.com
"Cale establishes himself as a serious lyricist who will get more deserved
attention" - Exclaim! Magazine
"His energy and ambition will likely win you over" - Herohill.com
"Protest-friendly musicians should consider the bar set" - Toronto.com
Cale Sampson is a socially conscious hip hop artist from Toronto, Ontario. He has been referred to as the "Bob Dylan of Hip Hop" and is also the inventor of a new sub-genre of hip hop music, he calls, "Info-Rap". This genre of music challenges mainstream beliefs by presenting complex socio-political material in the form of easy to understand rap songs, which are structured more like personal essays than traditional song formats. This unique method of social commentary invites listeners to question authority, and the very nature of accepted truth, by encouraging people to become enlightened and to think critically for themselves.
In 2008, Cale Sampson started his solo career and joined forces with some of Canada's most prominent hip hop producers, including Classified and DJ Kemo of The Rascalz. He has performed with such acts as Guru from Gang Starr, Aceyalone, The Hilltop Hoods, Eyedea & Abilities, and Scratch from The Roots. His debut album, "Cale Sampson" received highly positive reviews from the critics and peaked on both the Earshot and ChartAttack charts as the #3 most played hip hop album on Canadian college radio. In 2009, Cale Sampson was also named "Best Songwriter of the Year" by NOW Magazine for their annual "Best of T.O." edition. This was a rare acknowledgement, as it was the first time the honor had ever been awarded to a hip hop artist.
With a style that has been described as "the skill of Eminem with the conscience of K'naan", Cale Sampson is not your average rapper. Rather than focusing on typical commercial rap subject matter, his songs address the holistic flaws in modern-day society while expressing an urgency to bring about public awareness and positive change on a global scale. Due to this unique perspective, Sampson has begun to inspire a younger generation of emcees, while also capturing the attention of people who don't normally listen to hip hop music by forcing them to look at it in a different and more respected light.
With his grassroots background and strong internet presence, Cale Sampson is quickly accumulating an international following of fans who are rapidly spreading his music across the globe. He has become particularly popular on social networking websites such as Youtube, where in a very short period of time he has amassed over one hundred thousand followers. This loyal group of supporters is only continuing to grow as Sampson's message-oriented music attracts more and more listeners worldwide.